Trusted CEO Advisor
When leaders hire a coach, they of course want the best person they can possibly afford. Discriminating decision-makers use value-criteria such as expertise, rapport, cost, reputation, trust, and the capacity to help them excel professionally and personally.
But they quickly realize that the coaching industry makes them choose between experts from two disparate categories. For their professional life: executive coaches, trainers, or business consultants. For their personal life: psychologists, therapists, or marital counselors.

Faced with this decision, most leaders opt for a business advisor. 
Why? Too much hassle, time and money to choose both.
What if there was a third, better – a best of both worlds – option; a "confidant" who has the expertise and experience to help you change your life, not just a little (because you are only improving one half of it), but a lot (because you are addressing the whole of it)?
A Systemic Analysis of the Three Groups Competing for your "Coaching" Business
Not to be unnecessarily complicated but the diagram below shows the difference in the value offered between three options:
Executive Coaches (the Green Line)
Marital Counselors (the Blue Line)
The CEO Coach (the Red Line)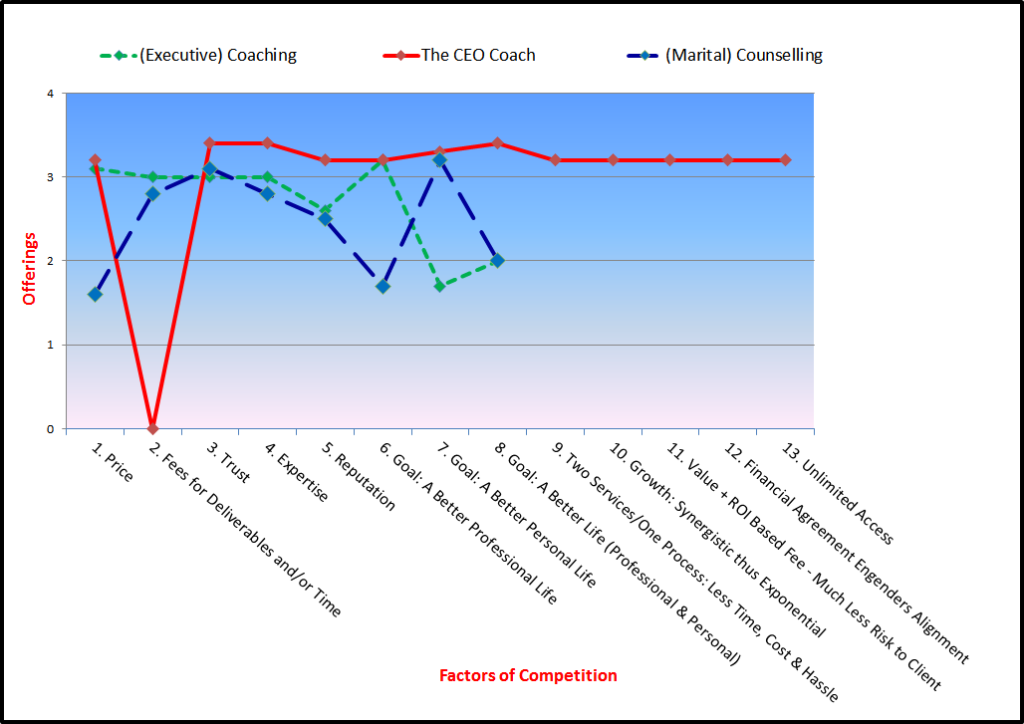 The horizontal (Factors of Competition) axis depicts the range of services and value-add benefits on which the coaching and counselling industry competes.
The vertical axis (Offerings) captures the level of service executives receive from coaches and counsellors.
There are a maximum of eight potential benefits offered by coaches or counsellors limited to their one area of expertise, compared to a maximum of 13 value-adds in my more comprehensive ("best of both worlds") approach.
Value: not What I do but What you get
At the same time, most coaches or consultants charge you for their time and deliverables (what they do), not value/results (what you get). This tends to create an intrinsic state of (financial) variance with clients because you, the client, invariably want more value in less time, for less money; whereas coaches and consultants generally want and ask for more time, and more money to deliver the value you want.
This stands in stark contrast to my approach where we agree beforehand on my fee based upon the results you will get. In other words, I don't charge for what I do but what you get (value). This financial arrangement means we both want the same thing, the best result possible results (value), in the least amount of time and for the least amount of money.