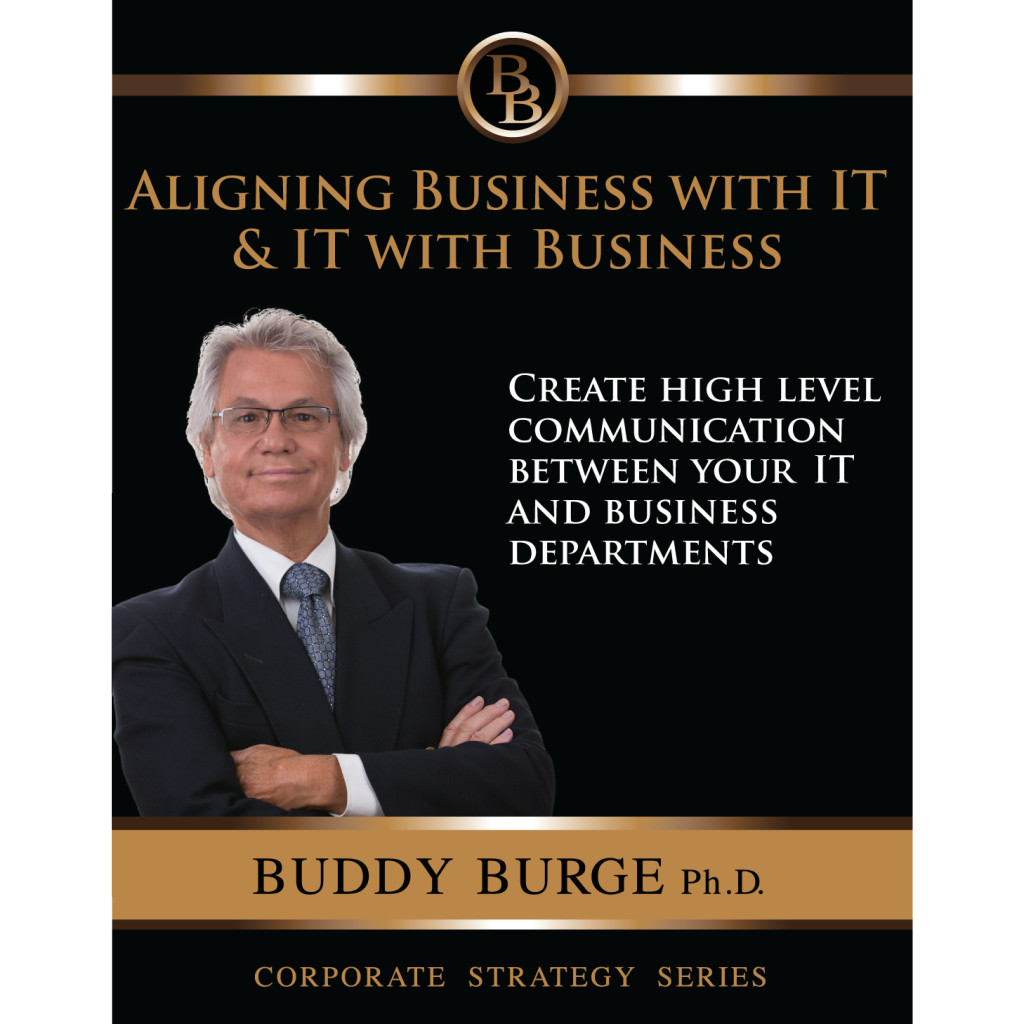 The following excerpt is taken from "Aligning Business with IT and IT with Business"
Aligning Business with II and IT with Business
In part one, we explored the historical relationship between business and IT and the four models companies , primarily IT, use to interact with business.
Those four models are Passive, Provider, Partner and Peer.
In this post, we will explore the BRM Business Relationship Management role and how your company can use this person/role to align business and IT.
Business Relationship Management
To engage and use all 'Four P' roles,  the IT function will need to make sure that it is organized, equipped and motivated to respond to differentiated business needs.
A Comment as to the relationship of the BRM and ITIL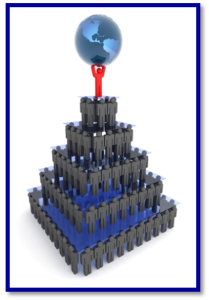 The role of the BRM in ITIL is to identify and then focus on what customers consider to be the value of a service.
That value is composed of tangible things, such as the functionality and how high value service must be delivered.
But there are also intangible things, the perceptions and preferences of the customer, that also play an important role in value.
Those need to be identified, incorporated, planned for and consistently delivered.
Just as functionality and other requirements change, so do preferences and perceptions.
This change needs to deliver value to customer(s).
It is the BRM's job to make sure this is done.
This is where the BRM plays a key role in the viability of the IT organization as an internal or external service provider.
You can have the greatest operational capabilities in the world, but if you are not aligned to what the customer considers of value, you will eventually fail.
The Four IT Systems: Their Primary IT Role and Style of Collaboration
Business/IT Relationship Models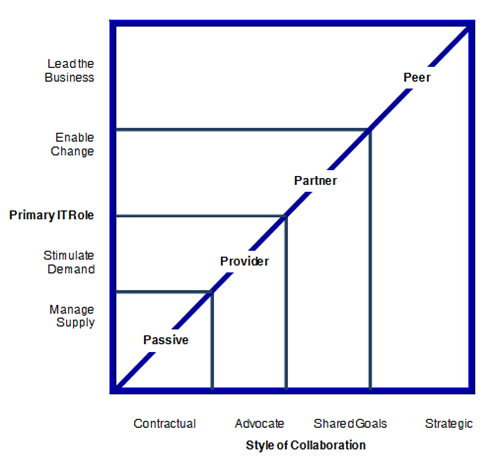 Which Operating IT Model do you Think the Following Companies are Using?
Case One:  Buzzard Billiards Sales and Marketing
Their Sales and Marketing encompasses processes for creating, communicating, and delivering
value to customers of home appliances and services
Department Goals:
Driven primarily by sales targets
Transformation from durable goods into services
IT engagement
Avoids internal IT:  "They have no clue and take too long"
Sales information system to manage leads hosted via third-party
Web-based information and e-commerce systems designed and hosted externally
Debrief:
1. Where on the BRM maturity path is Buzzard's relationship management group?
2. What are your reasons for your assessment?
Case Two:  Research and Development – Clunkie's Chemicals
Clunkie's Research and Development (R&D) oversees new product design and maturation, incorporating technology change and responding to market and competitor evolution.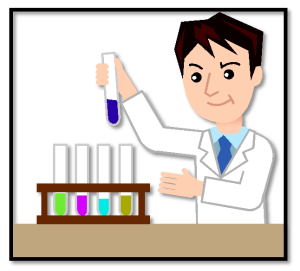 Department Goals:
Ensure products are innovative, safe and energy efficient
Design and deliver smart appliance products and services
IT Engagement
Described as "healthy and productive"
Lab for embedded systems development
Desktop and Computer aided Design (CAD) support
Debrief:
1.  Where on the BRM maturity path is Clunkie's relationship management group?
2.  What are your reasons for your assessment?
Case Three: Universal University Information Services and Technology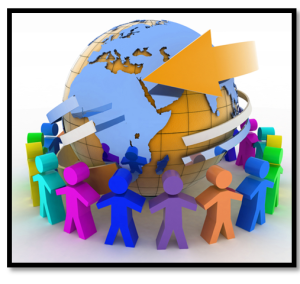 Services Offered
Advise customers of available IS&T services and other options
Facilitate kick-off meetings and complex issue resolution
Bring the key IS&T individuals and customers to the table to explore options and identify solutions
Identify opportunities for future IS&T services
Provide comprehensive management of the IS&T/client relationship by coordinating cross-functional IS&T activities for customer
Learn about our customers' IT initiatives to help influence their direction
Be a resource for customers who don't know the appropriate contact for IS&T services
Ensure customers understand service costs and who has to pay
Universal Information Services and Technology Debrief: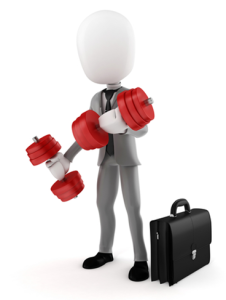 Universal is quite obviously at a Peer Level relationship with Business.
1. List three similarities you see between Universal and your company.
2. List three differences you see between Universal and your company.
3.  Where on the BRM maturity path is Universal's relationship management group?
4.  Where on the BRM maturity path is your organization?
The Four Models of Business/IT Collaboration in Descending Order
4. Peer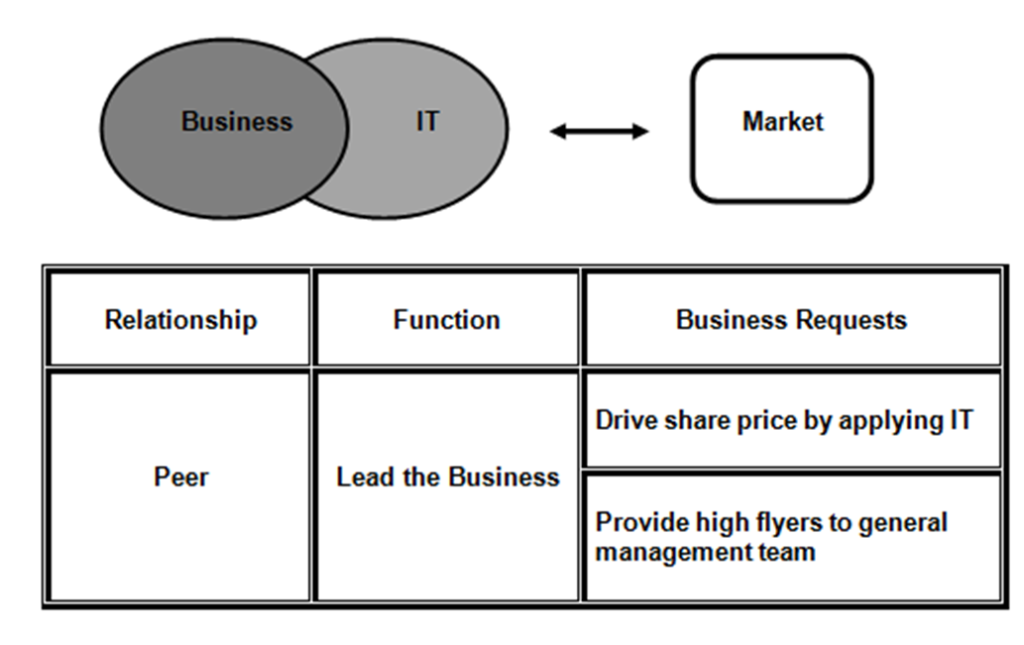 3. Partner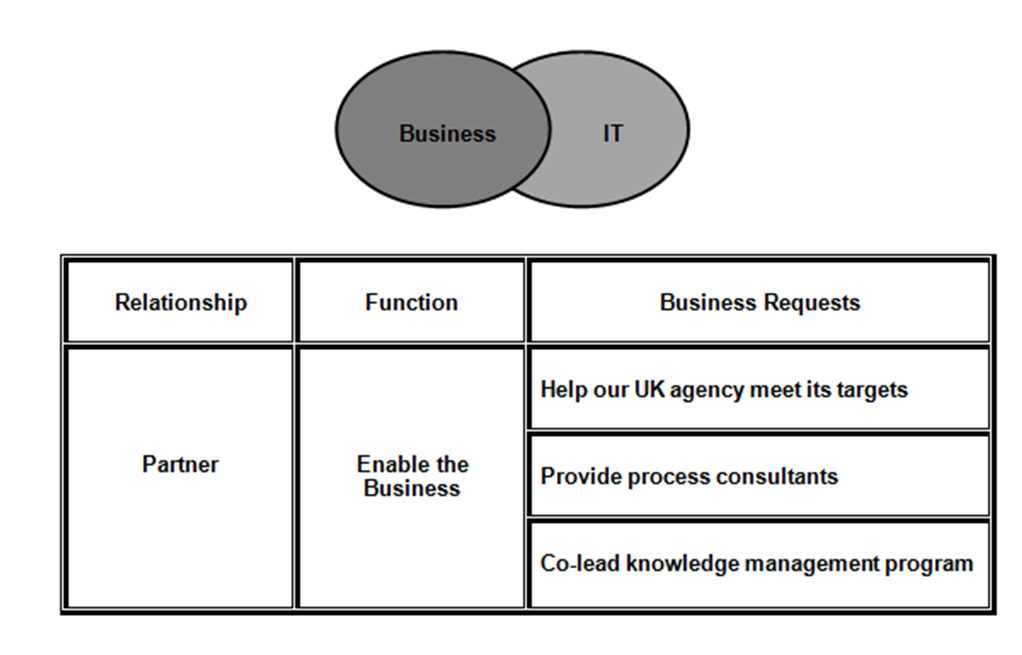 2. Provider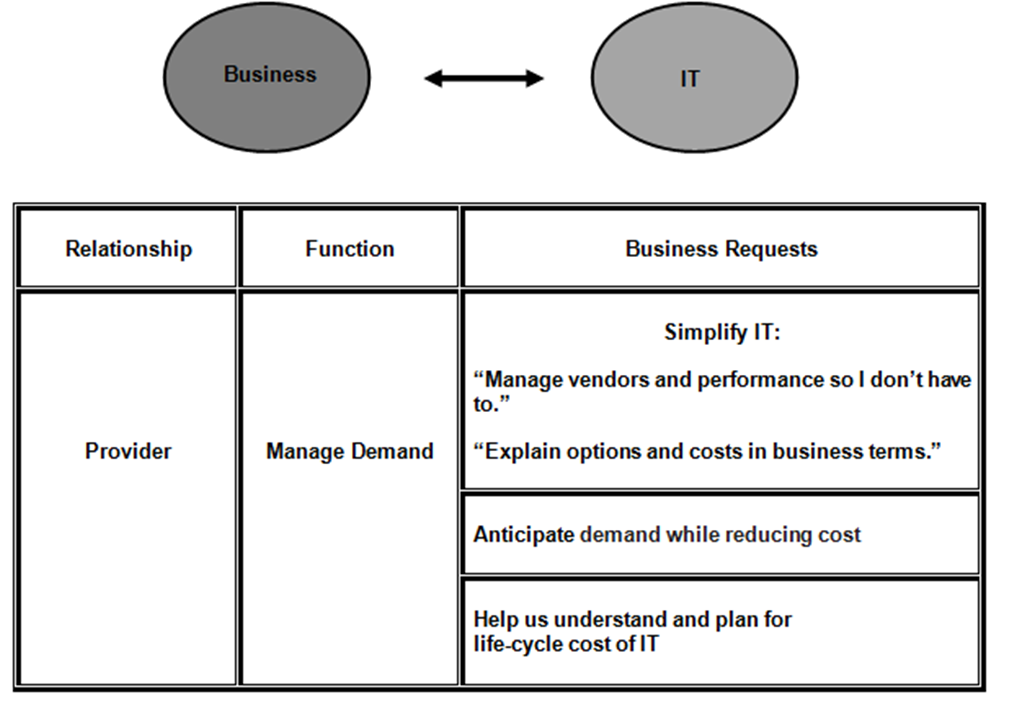 1. Passive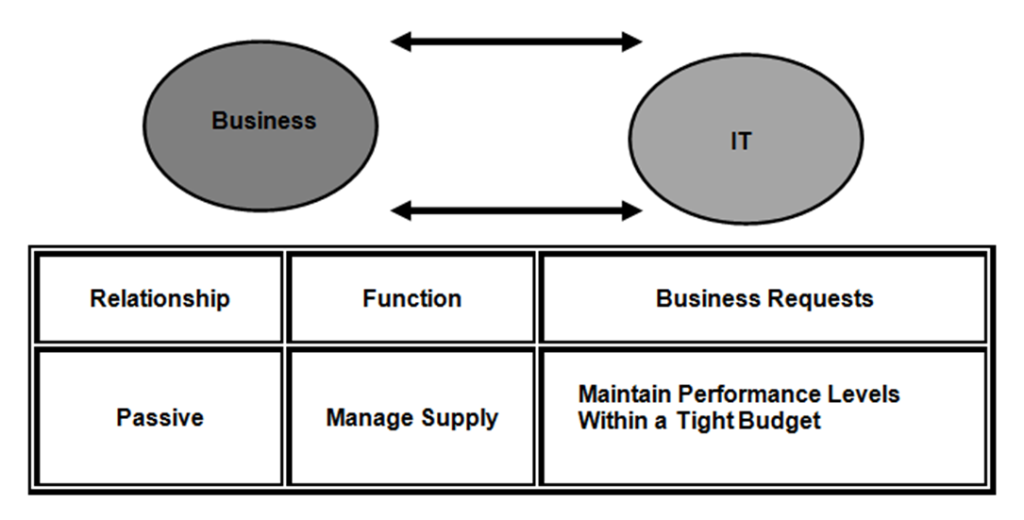 Business and IT Both Need to Build the Attributes Needed to do Their Job
IT's Relationship with Business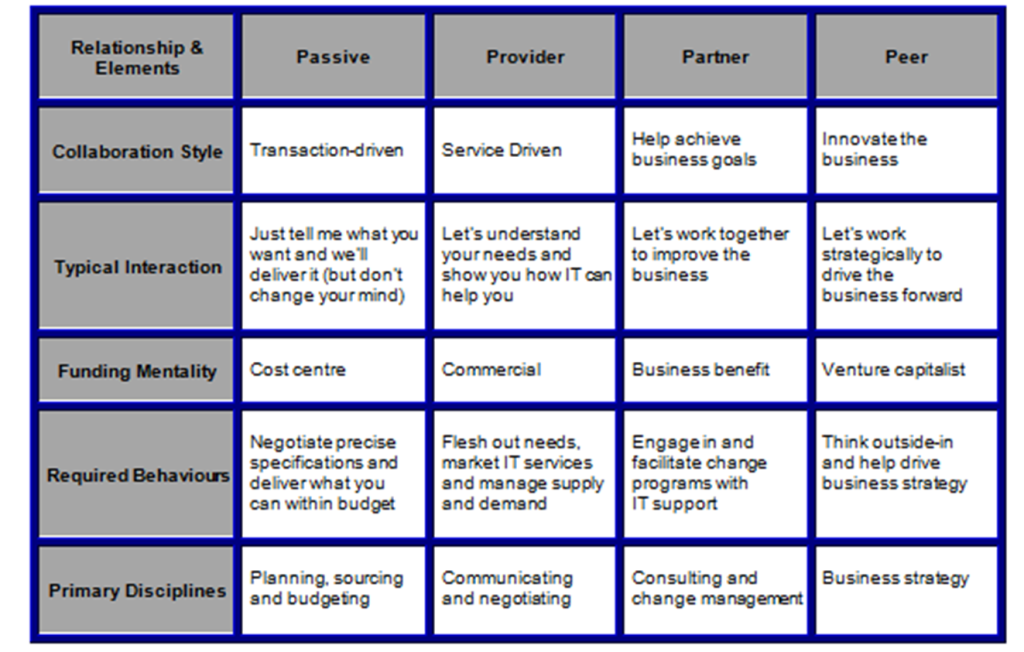 IT's Relationship with Business – Discussion: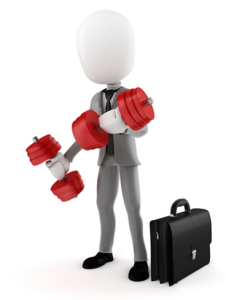 1. What is your assessment of this chart, its' implications and significance for your IT Organization in your company?
2. What might you see about this issue that others may not understand?
3. Which model do you think is the best one for your group?
4. What is your reasoning for choosing that model?
5. What might be the upside and downside of your choice?
6. What should you do about the possible downsides?
7. Our definition for "Consensus" in this workshop is, "Not something you would die for but something you can live with."
8. To what extent might we have "Consensus" on this issue?
Business' Relationship with IT
The BRM Management Disciplines Are a Mix of the Old and the New
The Requisite (New) Behaviors for Each Business/IT Relationship Model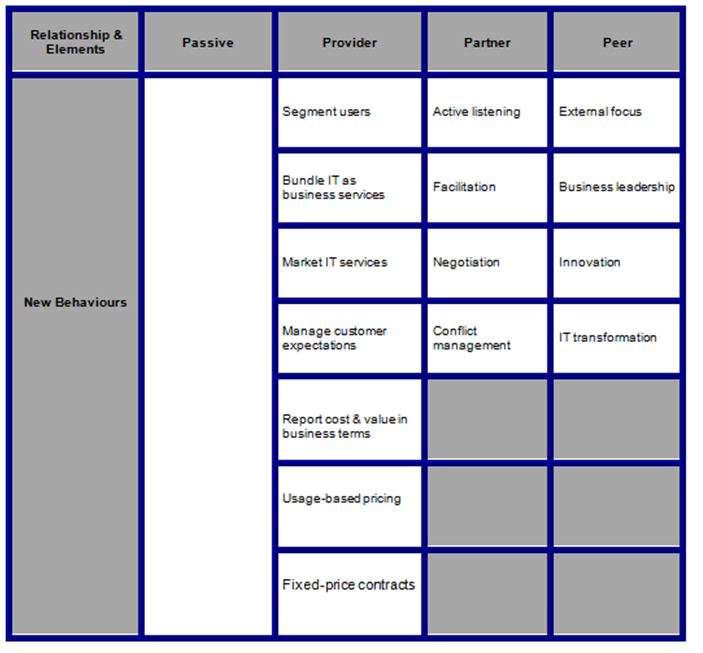 In the last two articles we have discussed some fundamental concepts on aligning business with IT and IT with business, primarily the four models for that relationship and how to apply them.
This is a very intricate change process; a marathon, certainly not a sprint.
But an extremely important topic, that every CIO needs to consider, to be sure.
Good luck.
For more on this topic, we recommend the following

Aligning Business with IT
and IT with Business

Create High Level Communication between
Your IT and Business Departments

Click Here For Video and Full Description

If you found this article useful